The Queen of Sheba Book Review
3:05 PM
Title : The Queen of Sheba
Author : Jessica V. Barnett
Target Audience: YA / New Adult
Genre : Mental Health / Teen Romance
Rating (Out of 5 Stars) : 4
Summary of Book: "
On the eve of her senior year in high school, Rachael learns that Leif, the boy she's had a crush on for over a year — who disappeared the previous spring after showing signs of a worsening depression — is coming back to school.
Rachael knows a little something about depression. Hers comes in the form of a two-hundred-pound lion, named Sheba. At first, it seems like their shared experience with depression might bring Rachael and Leif together, but Sheba has other ideas. Rachael soon realizes that if she can't get Sheba under control, she stands to lose a lot more than just her first crush."
This was a really great story! It's hard to know where to begin with this book so I'll try to break it all up evenly. It deals with themes that are maybe controversial in a great way.
The portrayal of mental health was so good.
I have to say, Barnett did a very good job of telling it like it is and showing how depression feels in real life. It was a risky and artistic move that totally paid off in the end. Honestly, I was skeptical when I first started reading because of the impossibility of it all, but as I read on, I became much more comfortable with the fact that Sheba (Rachael's lion depmo) was just a part of Rachael's life. I ended up feeling a little guilty when I became sad that Sheba left, but the more she was away the better I felt for Rachael. I liked that Rachael was a dynamic character with actual hobbies and a separate home and school life and that Barnett brought up the normal teenage things that normal YA books never really seem to do (ie: condoms, sex, that stuff).
Transgender issues are brought up…
YAY!! I was so happy about this! I have a few trans friends and I think that this aspect of the story made it so much more interesting and diverse, Didi is someone I'd totally want to be friends with. I liked how normal Didi's character was. Sometimes I think that authors make trans characters act weird but Didi was just normal and so cool.
As well as eating disorders…
Although, briefly, eating disorders are brought up and it's
so
important to acknowledge that they exist and that they can be helped.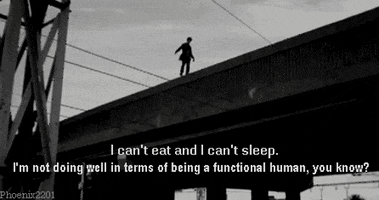 I don't want to give anything away or cause any triggers to occur, but this topic was a big deal towards the end of the book. No matter what gender or age, this stuff happens and Barnett shows us the multiple points of view that this situation can come in. I applaud that.
But it wasn't overwhelming.
This novella was certainly one of the most diverse books I've read in a few months. It handles gender, sexuality, child abuse, mental health, sex, oddities, school, and romance so very well. It's a clear, concise and quick read.
This book was provided by the author for an honest review.