Mean Girls Book Tag
3:58 PM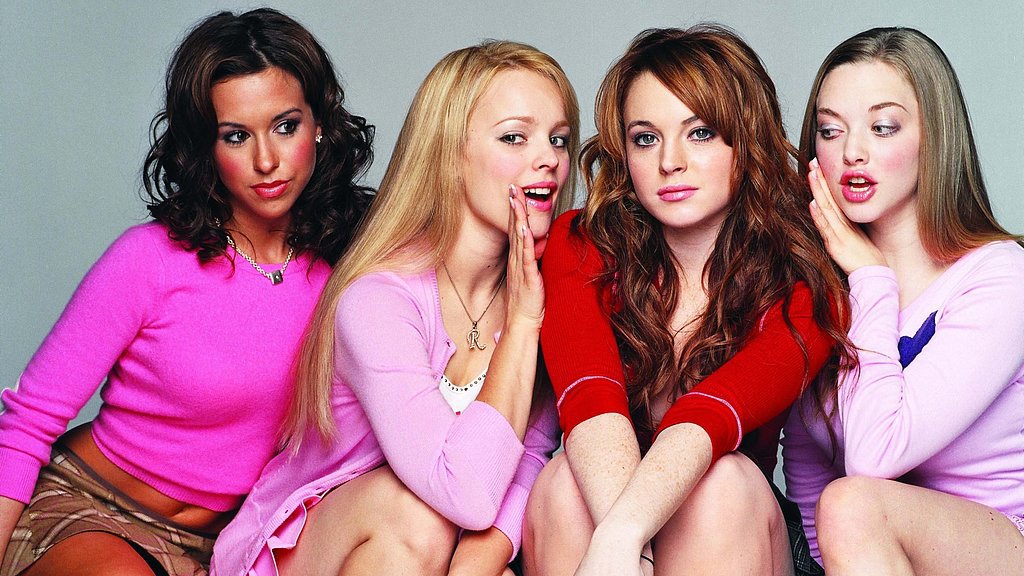 Hey guys! I'm doing this tag because of my friend Tyler. He does the Mean Girls Jingle Bell Rock dance so well and I found a book tag related to it so why not? If you've never seen it then you can click here.
1. "It's pronounced like Cady" - Which fictional character's names did you get completely wrong?
I used to say Uriah's name from the
Divergent
trilogy as "
y
ur
-ee-
uh"
instead of "yoo-riah-uh."
2. "She doesn't even go here!" - Which character would you like to place in a fictional world from another
I want Hayden from the
Unwind
dystology to go into the
Harry Potter
series and just sass everyone around. (Can you imagine him having an argument with Umbridge???)
3. "On Wednesdays we wear pink!" - Repetition. Repetition. Which book gave you dejavu of another book whilst reading it?
Weeeell,
Carry On
was very similar to
Harry Potter
but it was also no where
near
the same story. Only the fact that it's about enemy wizards is the same.
4. "You all have got to stop calling each other sl*ts and wh*res. It just makes it okay for guys to call you sl*ts and wh*res." - Which book gave you the complete opposite of girl power feels?
Ah, I don't really know. I guess
TWILIGHT
FOR GOD'S SAKE! She literally almost commits suicide because Edward leaves, ughhhhhh.
5. "You go Glen Coco!" - Name a character you felt like you wanted to cheer on whilst reading.
Ruby from
The Darkest Minds
series cuz that girl is amazing 'nuff said.
6. "Get in loser, we're going shopping!" How long do you typically spend at a book shop?
I try and stay for as long as I can but everyone always wants to leave early. :( I only get to stay for about five minutes until they want to move on.
7. "It's not my fault you're like in love with me or something!" - Which character would have to get out a restraining order on you, if they were real?
Liam, Conner, Lev, Tobias, Jude, Vladimir, Henry, Otis… And many many more.
8. "I can't help it that I'm popular." - Which overhyped book were you cautious about reading?
Cinder
. (I ended up not liking it at all)
9. "She's a life ruiner. She ruins peoples lives." - We all love Regina George. Name a villian you just love to hate.
Someone from
Red Queen
(I don't want to spoil anything)
10. "I'm not like a regular Mom, I'm a cool Mom." - Your favourite fictional parents.
Park's parents in
Eleanor and Park
by Rainbow Rowell. They're so nice and very understanding of Eleanor and her problems.
11. "That is so Fetch!" - Which book or series would you love to catch on?
The Mortal Instruments / The Infernal Devices and all that jazz. Everyone says they're so good but I haven't gotten farther than the first one.
12. "How do I even begin to explain Regina George?" - Describe your ideal character to read about.
Baz from
Carry On
by Rainbow Rowell because hello he's amazing and sarcastic and everything.
13. "I just have a lot of feelings." - What do you do when a book gives you a bad case of 'the feels'?
Carry On, Vladimir Tod, Shatter Me, The Darkest Minds, and Divergent. Those are my top ones that give me the feels.
14. "Nice wig Janice, what's it made of?" "Your Mom's chest hair!" - Which characters one liners would you love to claim for your own?
"Give 'em hell darlin'." - Liam Stewart
Never Fade
15. "Boo, you wh*re." - Name a time a character's decision has made you roll your eyes
WHEN TRIS THINKS IT'S COMPLETELY OKAY TO GIVE HERSELF OVER TO ERUDITE IN INSURGENT!
That's all! Make sure to check me out on Instagram and Twitter and Subscribe to get updates when I publish my next blog post!
(Special thanks to Tyler for giving me the idea to do this tag and also happy early birthday)